It would be a "monumental error" to think the danger of Covid-19 has passed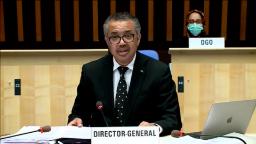 A scientific adviser to the UK government has called for plans to lift all remaining coronavirus restrictions on June 21 to be reconsidered, warning that the UK could be seeing the early signs of a third wave of the pandemic. 
"There has been exponential growth in the number of new cases and at least three-quarters of them are the new variant," Ravi Gupta, Professor of Microbiology at the University of Cambridge, told BBC Radio 4 Monday. 
"What we are seeing here is the signs of an early wave that will probably take longer than previous waves to emerge because we do have quite high levels of vaccination in the population," he added. 
Where things stand now: Under the UK government's roadmap, all legal limits on live events and social contact will be lifted starting June 21, enabling nightclubs to reopen.
Gupta, who is a member of the UK government's New and Emerging Respiratory Virus Threats Advisory Group (NERVTAG), said that while cases are still "relatively low at the moment," they could soon rise to "explosive" levels, with a high number of infections likely to be asymptomatic. 
"Children and young adults are the individuals who are not vaccinated and many of them may not even be tested, so we may actually be missing the true number of infections to a greater extent than we would in older adults," Gupta said. 
"If you look at the costs and benefits of getting it wrong, I think it is heavily in favor of delay, so I think that's the key thing," he added. 
The UK has recorded more than 3,000 daily cases for five consecutive days according to the UK government coronavirus dashboard.